Monitor - ISSN 1472-0221
The Newsletter for Data Acquisition and Control
Issue 256 February 2020
Welcome to Monitor - thank you for subscribing. Any comments or questions email [email protected] For a full archive of back issues see windmill.co.uk/newsletter.html
Contents
* Data Logging over the Internet-of-Things
* Your DAQ Questions Answered
* Data Acquisition News Round-Up

---
Data Logging over the Internet-of-Things
The Microlink 840 multi-purpose data logger will soon be able to connect to the Internet-of-Things, as well as to WiFi and Ethernet networks.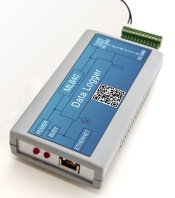 Real-time remote data
Eight-channel, battery-backed, data logger
Monitor analogue signals including pressure, temperature, force, voltage and current
Monitor digital sensors like flow meters
Monitor digital status, eg count switch closures
Monitor machines, eg record percentage on/off times
Count: accumulating, frequency, period, pulse width and elapsed time
Monitor energy use
Monitor alarm thresholds and output digital control signals
Available in a weather-proof box
MQTT, TCP/IP, Ethernet, Internet and WiFi communications
Free technical support for life

Data Logging
Remote Data Acquisition and Control
Log data from, and control, a mix of eight digital and analogue signals. Plug into a local Ethernet network or use the internet TCP/IP protocol. Monitor and control in real-time.
Logging Data
You can choose the time period over which to store data, every minute or every hour say. For each channel you can save:
Final value of the logging period, eg total energy used
Maximum value
Minimum value
Average value
Custom calculations on the data
---
Your Data Acquisition Questions Answered: Maximum Frequency
Question
Can you tell me what the maximum frequency of the logged data is please, I'm looking to record a short burst of data from five channels (around 10 to 15 seconds) & I would like to log around every 200 milliseconds if possible?
Answer
The maximum sampling speed with the ComIML serial driver is 5 samples per second - so every 200 milliseconds. Readers can download a free copy of the Windmill software with ComIML, but no technical support is available. To get your copy email us.
With Microlink data acquisition hardware, the maximum sampling speed is 80 samples per second - details of hardware options at https://www.windmillsoft.com/daqshop/ethernet.html
---
DAQ News Round-up
Welcome to our round-up of the data acquisition and control news. If you would like to receive more timely DAQ news updates then follow us on Twitter - @DataAcquisition - or grab our rss feed.
Moisture sensor sends alerts when nappies are wet
Researchers have developed a low-cost nappy embedded with a moisture sensor that sends alerts when the nappy is wet. The new sensor may be especially useful for nurses working in neonatal units and caring for multiple babies at a time.
Source: MIT
http://news.mit.edu/
New sensor provides better leak protection in buildings
A new, battery-free sensor can detect water leaks in buildings at a fraction of the cost of existing systems.
Source: University of Waterloo
https://uwaterloo.ca/
Having an eye for colors: Printable light sensors
Printable organic photodiodes that can distinguish wavelengths and, hence, enable data transmission by light.
Source: EurekaAlert
https://www.eurekalert.org/
How Low Can You Go? Lower Than Ever Before
NIST scientists make most sensitive measurements to date of of how quickly electric charge moves in silicon, a gauge of its performance as a semiconductor. Using a novel method, they have discovered how silicon performs under circumstances beyond anything scientists could test before - specifically, at ultralow levels of electric charge.
Source: NIST
https://www.nist.gov/
Sweat Sensor Detects Stress Levels; May Find Use in Space Exploration
Professor develops a wireless sweat sensor that can accurately detect levels of cortisol, a natural compound that is commonly thought of as the body's stress hormone.
Source: Caltech
https://career.caltech.edu/
Explained: Why water droplets bounce off the walls
Researchers can now explain why some water droplets bounce like a beach ball off surfaces, without ever actually touching them. Now the design and engineering of future droplet technologies such as 3D printing can be made more precise and efficient.
Source: University of Warwick
https://warwick.ac.uk/
---
---
* Copyright Windmill Software Ltd
* Reprinting permitted with this notice included
* For more articles see https://www.windmill.co.uk/
We are happy for you to copy and distribute this
newsletter, and use extracts from it on your own web
site or other publication, providing the above notice
is included and a link back to our website is in place.
For previous issues by subject see https://www.windmill.co.uk/monitorindex.html
SUBSCRIBING OR CANCELLING SUBSCRIPTION Visit https://www.windmill.co.uk/newsletter.html and add or remove your e-mail address.
Windmill Software Ltd, PO Box 58, North District Office,
Manchester, M8 8QR, UK
Telephone: +44 (0)161 833 2782
Facsimile: +44 (0)161 833 2190
E-mail: [email protected]
https://www.windmill.co.uk/
https://www.windmillsoft.com/
---
Subscribe to Monitor